---
Radio Headlines:

Sony Sony Pictures Sound Effects Series: Volume 1-5
Tailor-made to elevate your productions to the content quality standards of the Hollywood entertainment industry.
Radio News US:
Business & Financial
Programming, Changes & Ratings
News & PR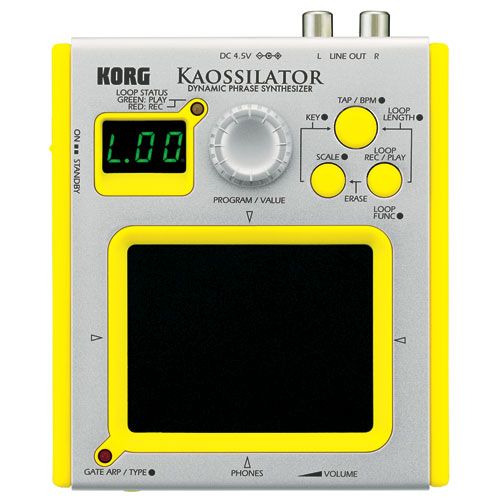 Korg Usa KAOSSILATOR Ultra-compact Portable Electronic Instument with synth sounds, sound effects, and drum sounds
the next innovation in musical expression and creation from korg has arrived! the kaossilator is a new pocket sized instrument that packs korg's world renowned synth sound along with innovative performance features into an ultra-compact unit.
OP/ED, Political & Feature
FCC & Legal
Public, Educational & Religious
Streaming & Tech
Radio News International:
Britain/Europe
Canada
Asia/Africa/Oceana
Trades
Clear Channel Radio Cuts Another 3% Nearly 2,500 laid off in '09
Supreme Court Backs FCC On Single Utterances Of Indecency
CCR Eliminates Corporate Marketing Department
Hunter Takes Over 89X Reins
NNB CEO Benedetti Resigns
R&R Offers Career-Stimulus
Whaley Cut At VRE/Honolulu
Stock Market Snapshot: April 28, 2009
Ashton & WFAS Break Up
Mahaffey Exits WFUS, Catfish Coming
Fresno Smooth Jazz Goes Xmas
Street Talk: Fedele Turns Off The Lite
Sales Pros Get Online Growth Opportunities In Spring
Norris Named Journalist Of The Year By NABJ
More On New Fairness Coalition
Survey: Rockers Want iPod Connectivity In New Cars
Moody's Cuts Emmis' Rating
New York's Jazz Festival Loses Sponsor
Citadel Media Launches New Strategy
Clear Channel's Disenfranchised Staffers
Cox Radio Buyout Offer Increased; Another Suit Filed
NAB Floods DC Metro Station With Ads
Stern Prankster 'Captain Janks' Jailed
Price Revealed For Five Station Billings Deal
KRKO License To Cover Draws More Opposition
Power Surge Knocks KPQ Off Air
Lance Tidwell Resigns From Southern Star Broadcasting
Brock Whaley Out At KPOI, VRE
Hay … KCAL Gets New Promo Dir.
10th Annual Latin Grammy Awards Will Heat Up Las Vegas
StreetPulse: Dylan Debuts #1
Sharpton, Ballentine Add Atlanta, Birmingham
Tim McGraw Stops At Red Light
Taylor Swift Visits The Land Of The Jayhawks
KMLE To Present 'Guitars And Guacamole'
Julianne Hough & Chuck Wicks Eliminated From DWTS
Hosts Announced For Country Weekly Fashion Show
Keith Urban Needs Name For Webisode Series
Line-up Announced For Froggyfest 2009
Taylor And Julianne Are Most Beautiful
Lindsey Roznovsky Campaigns To Be LLS Woman Of The Year
Miller Fills In At WGN
St. Paul Saints Back On WLOL
NASCAR Reporter, Sirius Host David Poole Dies
UNLV's Glen Gondrezick Dead At 53
Holy Employment Batman!
Another Round Of Cuts At Clear Channel
Updated: Supreme Court Upholds FCC's 'Fleeting Expletives' Policy
Group Radio Centro Sees Revs Rise In Q1
Tama Receiver Sells Jacksonville Stations
Fisher Radio Revenues Down In Q1
Citadel Media Lays Out New Lifestyle Segments
WSJ Radio Network Thrives As Paper's Circulation Rises
It's Christmas In Fresno
NPR's Norris Named NABJ's Journalist Of The Year
RAB, BMI, MIWs Accepting Scholarship Applications
Pandora Picks Ando Media Measurement
Live365 Gets An iPhone App
Supreme Court Backs FCC On Fleeting Expletives
Clear Channel Reportedly Lays Off 3 Percent Of Workforce
NNB Sells Five Stations To BMG Billings
Dave Hunter named PD at 89X
The vinyl record renaissance continues
UPDATE: Cox raises buyout by a buck.
Indecency status quo.
Clear Channel restructuring goes deeper.
Keep in touch with radio.
PDs picking from talent menu.
Consultant: Radio needs pandemic plan.
Fisher Radio down 29%.
How many listen to Channel 6?
Cox Radio buyout offer boosted
New round of firings at Clear Channel
AMEX, Delta SkyMiles launch multimedia effort
"Cita con el Doctor" details Swine Flu
New round of Clear Channel layoffs
Jacobs survey looks at auto buyers
WTKK PD gets Judy Jarvis Memorial Award
"Kung Pao 100.5 stunting over—now CHR
Clear Channel Radio Budget Cuts Target 590 Jobs
Supreme Court Backs FCC on Fleeting Expletives
New York Times May Sell Classical WQXR/New York
Brian Anthony Exits WMKS (Kiss)/Greensboro as PD
CCR Suspends Matching 401k Funds for Employees
Tama Receiver Sells Three Jacksonville Stations
Clear Channel Eliminates Corporate Marketing Dept.
RAB Partners With Borrell for New Webinar Series
Skip Mahaffey exits mornings at Country WFUS-FM
WQBW-FM (97.3 The Brew) and Variety Hits WRIT-FM (My 95-7)/Milwaukee PD Jeff Lynn is out
Brian & Joe exit Hot AC WMVX-FM (Mix 106.5)/Cleveland
WLW-AM "SportsTalk" host Paul Daugherty has been laid off and will be replaced by Lance McAlister from sister WCKY-AM
Tommy Bodean is out at CHR WNOK-FM/Columbia, SC
KFAN-AM/Minneapolis afternoon sidekick is out over budget cuts, along with News/Talk KTLK-FM morning talk host Langdon Perry and newscaster Danielle Hitching
KUSS-FM/San Diego PD/morning man Mike O'Brian is out WTKS-FM/Orlando morning co-host Bubba Wilson is out
Is Your Station Prepared For Swine Flu?
Supremes Uphold FCC Ban On "Dirty Words"
Talk Hosts Declare "Don't Touch My Dial!"
So, Who Attended That "Talk Summit?"
Levin Says Thanks A Million
Talk Media News Notes
Insite – President Obama gets no love from Fox News, and that's just fine
Insite – Swine Influenza (Flu)
Insite – Political Game Changer: Arlen Spector Makes a Switch
News – Clear Channel Chicago Departures VAZ and GCI
Arbitron – Pittsburgh, Cincinnati, Kansas City, Buffalo
Airchecks – Kelvin "K Dubb" Washington
News – KJ Bland Out at Clear Channel Greensboro
News – Mike Epps & Star 94.5 mid-day diva JoJo
News – Clear Channel 590 Employees Gone
Arbitron – Baltimore, Cleveland, St. Louis
Murray Kentucky's 13th Annual FroggyFest Set
What's Goin' On In Tampa?
Cox Media Offers $4.80/Share For Cox Radio
Country Weekly Fashion Show Set For June 10th
Tim McGraw Changes Managers
Lance Tidwell Leaves Southern Star Broadcasting
Arbitron Continues Winter Book Releases
KYGO/Denver's Catfish Hunter Heads For Tampa
Bucky Covington Visits WIVK/Knoxville
Jamice Jennings Leaves Cold River Records
Mike Borchetta Joins Way Out West Team
Rascal Flatts' Jay DeMarcus Delivers Piano To H.S. Students
Clear Channel Cuts Some More
Randy Travis Gets Dove Award
We Got Jobs!
Mac McAnally Donates You First Royalties
Oak Ridge Boys On QVC Tonight
New Father/Son Duo Releases First Single
Due West Starts Bigger Than Me Records
Darius & Taylor Share Mediabase Most-Added
Miss A Story? Check The AAC Archives!