---
Radio Headlines:
Radio News US:
Business & Financial
Programming, Changes & Ratings
News & PR

Focusrite Saffire / Audio-Technica Recording Package
OP/ED, Political & Feature
FCC & Legal
Digital Media Entrepreneur is Obama's FCC Pick – media bistro
FCC Daily Digest – FCC
Public, Educational & Religious
Streaming & Tech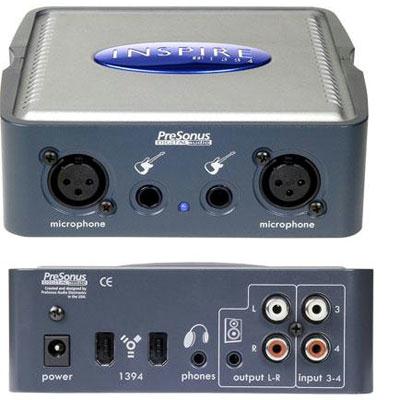 PreSonus Audio 4×4 Firewire Recording Interfa INSPIRE
Radio News International:
Britain/Europe
Canada
Phillips launches Astral Media into adult standards format – vancouver sun
Canada won't allow more foreign ownership of media – reuters
Asia/Africa/Oceana
Trades
Remington To Run Cumulus' Houston Cluster
Cox Radio Has Q4 Loss Of $357 Million
Cox Q1 Pacing Down 20%, Ads Booking Late
Neil Blasts Royalties Bill
SRA, NABOB 'Disappointed With Arbitron's Latest PPM Promises'
Copyright Office Publishes Streaming Rate Agreement
Riley Takes Over 'Now' For Gosselin
Villanueva Departs Dial Global
Harvey Presiding Over NABOB Communications Awards Dinner
Anti-Performance Fee Resolution Gains Support
Fant Exits Cumulus/Houston
Updated: Genachowski Nominated To Head FCC
Street Talk: Cataldo Gets The Point
Godin Keynotes CRS-40
Words From Paul Harvey's Friend
Street Talk: What's Up In The Haute?
WW1 Restructures Debt
Updated: Sales Promotions At Greater Media/Philadelphia
Katz Online Delivering 52 Million Monthly Listener Sessions
Smyth Supports 'Reinvention Project' For Radio
House Postpones Wednesday's Royalties Hearing
Finney Out At Salem
YouTube and Universal Music Are Said to Discuss Deal
Remington Named Market Manager At Cumulus/Houston
Obama Press Sec On Limbaugh: "I Wish I Had A Radio. I Don't"
Report: CT School Of Broadcasting Hartford-Area Campus Closes
Canada Won't Relax Foreign Ownership Limits, Says Finance Minister
Play MPE Encoder v.4 Released
KCMP Sale Upheld By Court
WXYT's Valenti Apologizes For Corey Smith Joke
Walker Upped To GM At WUNC
BBC Changes Producer Rules After 'Sachsgate'
Tomahawk Buys Star 107.2/Bristol, England
Kelly Joins BBC Radio Ulster
Chris Brown Expected In Court Today
ABC Offers Gil Gross, Doug Limerick In Paul Harvey Slots
The Weekly Pop 20 With Ann Duran Launches
Harvey Time Slots Go To Gross, Limerick
SRA, NABOB Unhappy With Arbitron PPM Commitments
Limbaugh To Obama: Debate Me
Changes At Greater Media/Philly
CRB Honors 2009 Radio, DJ Hall Of Famers
Smyth: Time To Reinvent Radio Sales
AURN To Recognize Mayo, Batts
Neil: Cox Radio Brands Strong In Tough Environment
Cox Radio Revenues Drop In Q4, Full Year
Gores Group To Take Control Of Westwood One
Dial Global Re-Ups Weather Channel, Adds Affiliate Sales
Genachowski Gets Official Nod As FCC Chair
Local Radio Freedom Act Gains Support
Katz Online Network Attracts 4 Million Weekly Listeners
Cox Radio Posts $357.3 Million Loss In Q4
Jules Riley adds PD duties at Now 97.5/Philly as Don Gosselin exits
Peter Smyth on Radio Reinvention
Pirate Bay trial winding down
more Fairness Doctrine commentary
PDs like "Rush" of attention.
White House slams radio.
Ongaro gets probation.
"Everything is on sale."
Neil: No sales cuts.
Lawyers win Interep bankruptcy.
Feds detail streaming rates.
ABC Radio name temporary Harvey hosts
Dave Ramsey answers your questions.
Inside the Numbers** by Mike Kinosian: AC Trio.
Minority broadcasters still dissatisfied with PPM
Financial ducks in a row for Westwood One
Tough times took Clear Channel down double digits
Talker gets five-year sentence
Bonus time at Cumulus
Cox Radio revenues fell 13.1% in Q4
Two radio pioneers dead
SHO Emmy campaign goes mobile
Listening to Internet Radio increased 37% Last Year
Support for Limbaugh increases
Westwood One nails refinancing deal
Performance hearing postponed
PPM enhancements extended to all markets
GAP and GAP West renew with Arbitron
Kelly Music Research offering 100% barter callout testing
Gross, Limerick to Replace Paul Harvey on ABC Radio
NABOB, SRA Disappointed With Latest PPM Promises
Peter Remington Named Cumulus/Houston Market Mgr.
Copyright Office Publishes Streaming Rate Agreement
Jules Riley Adds PD Duties at Now 97.5/Philadelphia
Cox Radio Q4 Revenue Down 13%, Loss Widens to $357M
Russo, Brown Promoted at Greater Media/Philadelphia
Katz Online Delivering 52M Monthly Listener Sessions
WKKT-FM Charlotte hires Andy Woods for afternoons
WMXQ-FM/Jacksonville MD/morning host Greg Tanner exits
KSMX-AM/Santa Maria, CA, Program Director and group Production Director Nick Le Duff exits
Pacey exits mornings at Hot AC KLLY-FM (Kelly 95.3)/Bakersfield
KZZP-FM/Phoenix MD/afternoon host Chino moves to afternoons on Rhythmic CHR KYLD-FM
Parttimer Laurie Cataldo is upped to middays at Hot AC WJLK-FM
WINZ-AM/Miami ousts syndicated Don Imus for Air America's Rachel Maddow
Premiere Radio is discontinuing syndication of "Costas on the Radio"
Paul Savage joins Sports KGSO-AM
UPDATED: Voters Say Limbaugh Not GOP's Leader
It's About Time Somebody Said It
So Who Is Julius Genachowski?
Tribute To The Men And Women In Blue
How You Can Honor Paul Harvey
Arbitron – Tampa, Columbus OH, Milwaukee, Indianapolis, New Orleans
Arbitron – Pittsburgh, Cincinnati, Kansas City and Buffalo
Richard Pegue of WVON Chicago Has Passed
Winter Arbitron '09 Phase 1 Trends dropping Today …
Luke Bryan Gets Into 'Spring Break' with iTunes
Tonight Swift Makes Guest Appearance On 'CSI' Thursday
To Whizz or Not To Whizz
WKKT Selects Andy Woods For PM Drive Time